Imagine a night where all your guests are enjoying – their blood pumping with the excitement that they can't contain because of the challenging mystery games that you've prepared for your game night. Sounds interesting right?
But, finding the perfect mystery game that will keep your guests interested is a must-have to ensure that you'll all have fun and enjoy the night. Your mind may be boggling with questions now – should you look for a board game, murder mystery game, a guessing party game, or character description game that will keep everyone puzzled?
Hey! We got you. To help you host the best game night, we've rounded up The 15 Best Mystery Games for Adults that you can play on your next game night! But, before we proceed, let's start with the basics.
What is a Mystery Game?
It's easy to describe this kind of game, anything with mystery as the central element of the game is called a mystery game. It usually features mysterious events, clues, solving puzzles, and anything that will keep your mind hungry for more.
Mystery games are a popular choice during game nights, especially for large groups of adults since it usually requires people to work together to determine or solve the problem with the clues that they can find in the area or uncover in every step of the board game.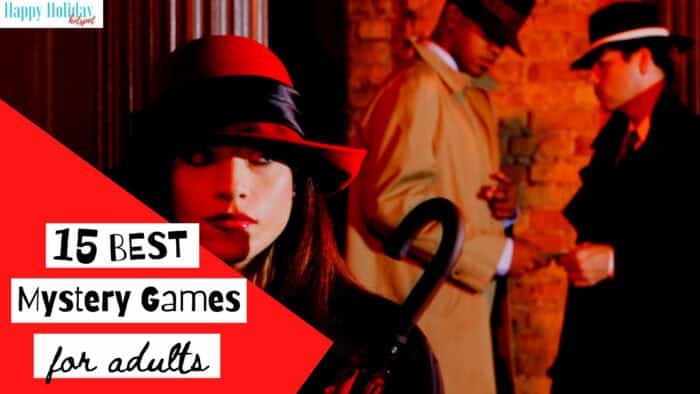 The Elements of a Mystery Game
Theme – This inspires the overall mood of the game and the players. There are tons of ideas to look for such as – casinos, TV shows, books, sports and so much more. Or if you're planning to create your own mystery game, you can base the theme on the interests of your players.
Characters – They are the stars of a mystery game. From the set of characters, you'll find the antagonist, protagonist, witnesses, and other important people included in the game. Most of the time, you can get a character description to help every player know each character better.
Problem – Did a character die? Did someone go missing? Do you need to open a treasure box? Those are the usual problems that players need to solve in fun mystery games. Each player has to work together or individually to find clues and solutions that will lead them to solve the mystery.
Clues – Some kits and mystery games come with prepacked or guided clues. Each player can use these tips or they have to answer questions that will provide the clues that will make them one step closer to the answers to the problem.
Props – To make every mystery game more exciting, using props and visual clues is vital. You can find kits, board games, or DIY your props for a more realistic and exciting experience.
15 Best Mystery Games for Adults
Are you ready to host the best game night with your favorite friends or people? Start listing the guests that you want to invite and get ready to choose one of the following mystery games for adults that you can consider for your next party.
Murder Mystery Games
Unsolved Case Files –  Get ready to solve a series of cold cases with the Unsolved Case Files featuring different crimes that you can solve using over 50 documents, clues, and photos. With the online guide, anyone in your party group can be a detective solving 3 objectives that will get you closer to the killer. Some of the available cases that you can find are about the bride-to-be Harmony Ashcroft, the high school senior Jamie Banks, and more!
Murder Mystery on the Night Train – Gather your best 5 to 12 players and find out who's the killer on the train. This fun and exciting mystery game have 3 alternative endings perfect to unleash your detective skills for hours. This kit comes with an instruction booklet, welcome speech, and various name cards and clues to help the group discover the mysteries on the night train. Out of all the mystery games for adults listed, this is my favorite!
There's Been a Murder – Here's a nerve-wracking card game that your guests will love. It's perfect for small and large groups who want to work together to discover the murderer in their midst. It features a complete guide with different cards with unique effects that they can use to catch the culprit.
Killer at Large – If you want a realistic murder mystery game, then this kit is the go-to for you. It is perfect for amateur detectives and even true crime enthusiasts who want to analyze evidence and decipher clues consistently. You can avail of one box or subscribe for an exciting new murder case that you can solve every month. Each box comes with realistic clues and details that will make you feel like you're a real investigator.
Murder Mystery Jigsaw Puzzle – This mystery game is perfect for people who love playing puzzles. This hybrid box features two puzzles with clues and a story of the incident that you have to solve. Brace yourself because this may seem like a regular puzzle but after reading the story, you'll discover more that will wake up the detective in you. 
Large Group Mystery Games for adults
Free Mystery Games for adults