If you're getting ready to brew a spooky and exciting Halloween Party, then you're in luck because we're here to help you with the fun! Aside from planning the food, hanging scary decorations, or preparing creative costumes, you must not forget to think of an inviting Halloween party name that will boost the curiosity of your party guests!
Ready your pen (or laptop), and let's get to business! Join us with a brief article that will help you discover many creative adult Halloween party names, games, and ideas that will excite your guests for the event. These Halloween party ideas can easily be adapted for kids and teens too!
Halloween Party Preparation
To host the best Halloween party, consider preparing the following things:
Venue – How many people will fit in your venue? Is it indoor or outdoor? Is the party space good for interactive and physical games or just for some tone-down party with cards and food? Considering the size of your venue will help you determine who to invite, and how many people to include in your guest list.
Guest list – whether you're planning a small or big party – inviting the right people will help you host the most exciting and memorable Halloween bash. Make sure to include people who are fun to be with, loves playing games, and can be an entertainer on their own.
Spooky Decorations – set the mood by filling your venue with the best decorations that will match your theme.
Food & Beverage – ready easy-to-eat snacks and other food that will keep the party going. Look for something that everyone can enjoy whether it's a sit-down or standing Halloween party.
Halloween Party Games – having a good list of fun Halloween theme party games is a great way to keep people entertained.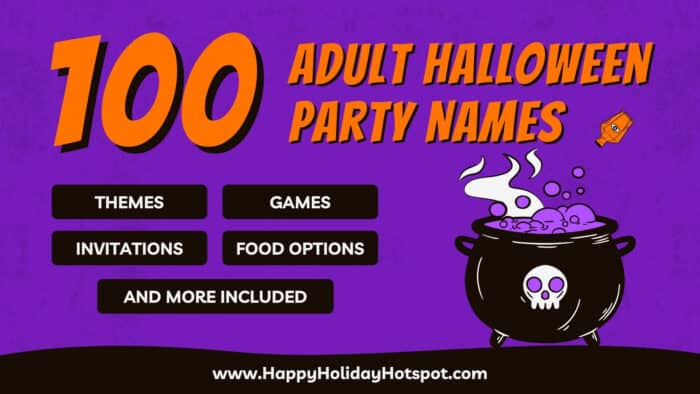 100 Adult Halloween Party Names & Theme Ideas
To make your next Halloween party preparation easier, we've gathered the following party name ideas & themes that you can consider.
Wicked Brew Bash (Beer party)
Spookzilla
Ghoul's Night Out (Girls' night out inspired party)
Bloody Ball
Fright Night
Fang-tastic Night (Snakes, vampires, and every fanged monster)
Time to Bite
Ghouls Gala
Martinis Midnight
Monsterrific Masquerade
Ghostly Gala (party with your craziest ghost costume and scariest ghost stories)
Haunted House of Horrors
Halloween Boo Party
Grim Night
Horror Films Night
Spook-a-thon (movie marathon of the best horror films)
Witches Wine Night
Costumes & Creepy Cocktails
Jack O' Lantern Feast (ready all your hidden talent for a pumpkin carving contest)
Fear Factor
Psycho Party
Who wants to be a murderer? (game show-inspired Halloween party, try this murder mystery party games)
A Haunting on ______
Hunting Party (this Halloween celebration features a scavenger hunt where you track down your prey)
Boo-some Brew Party
Night of the Living Dead
Hallo-wine Night
Haunted Street
Demons and Donuts
Angels & Devils
Witchfest
Psycho Gang Night
Deadly Dance Night
Boombastic Halloween Bash
Deadly Disco (party night of dancing)
BeWitching Ball
Thrilla in ______
Helloween
Voodoo Boys Night Out
Eat, Drink & Be Scary
Boos & Brews
Scare-nival Party
Phantom of the Halloween
Fangtastic Night of the Dead
All Hallow's Dance Gala
Deadly Costume Party
Masquerade of Monsters (dress up in your favorite monster costume, include a Monster Mash recipe)
Ghostly Gathering
Creepy Encounter
Vampires & Vodka
Beary Scary Bash
MonSTAR Party
The House of Monsters
Killer Dance Floor (get ready for a night of dancing and have a killer costume contest dressing up as your favorite killers from horror movies)
Thrilla Villa
Poltergeist Potluck
Satanic Soiree (a fun Halloween party theme that is about "raising hell")
BOO Ballroom
Night of Monsters
Wizard of Oz
Harry Poker (perfect for poker-themed Halloween party)
Howl-O-Ween
Queen Killer
Spirit of the Wine
Jack O' Lantern Jam Night
Dance the Scare Away
Eat, Dance & Die
Abracacadaver
BOO-wling Party
Haunted Showdown
Carnival of Grim
Creepy Celebrity
Night of Tim Burton (come in your best costume featuring characters from Tim Burton's movies)
Monsters in Black
Franken Party
Beastly Blowout
Mad Masquerade
Bloody Barbecue
Dance of the Dead
The Witching Hour
Spooktacular Soiree
Scary Movies Mash
The Pumpkin Patch (perfect for outdoor Halloween party)
The Howling Halloween Party
Chilla Costume Carnival
Trick-or-Tequila
Bloody Drunk Night
Cheers for Fears
The Witching Hour
Horror House
Giants & Ghouls
Scream Saturday
Wig it (a fun party idea that only requires a cheap wig like this one)
Night of the Hungry Hound
Foxy Lady's Night Out (aka a mummy's Halloween party)
Fangs for the Memories
Bite Night with the Monsters
Aliens & Monsters
Zombie Survival Night (Have you planned for the zombie apocalypse? Why not make a survival night out of it?)
Evil Kid's Characters (Can you imagine a Halloweenified Blippi? Get popular Halloween-themed kid's costumes (adult-sized) and redecorated them as evil, dark, dead, etc.)
Halloween Party Checklist
Halloween Party Invitation
Ready-made Halloween invitations
Personalized using Canva or other free platforms
E-invitation that you can customize with your details
Food & Drinks
Appetizers that are easy to carry while walking or playing
Sit-down meals that are easy to prepare like pasta, pizza, or chicken
Order online to avoid heavy preparation
Desserts can be prepared ahead of time or you can purchase them online
Potluck is a good idea too just make sure to inform your guests ahead of time
Punch bowl for a classic fruit punch
Coolers for your canned or bottled beverages such as sodas, beer, or bottled cocktails
Look up other delicious recipes for this spooky season
Other items etc
Tissue and disposable utensils
Disposable serving ware or paper plates
Tablecloths that will match your theme
Loot bags and party favors for kids
Setting the venue
Paper lanterns
Fake blood
Jack O' Lantern
Plastic decorations like knives, masks, bats, bodies, or skull
Candles
Speaker and spooky music
Cameras
Hanging decorations like webs or fake animals
Fog machines
Scaringly Good Food Ideas
Your Halloween party will be memorable when you prepare amazing dishes that your guests will love. Here's a list of spooktacular Halloween food ideas that you can wow your guests.
Nacho dip – use thin sour cream lines to draw spider webs
Deviled eggs – go crazy with the decorations that will make it spooky like sliced olives for eyes and ketchup for blood.
Chicken pot pie – instead of just covering it with pastry, cut the crust into scary shapes like hands, eyes, or heart. Drizzle it with hot sauce for blood.
Candy corn cupcakes – you can bake your cupcake or go for store-bought that you can decorate with candy corns.
Meat loaves – bake your favorite meatloaf recipe on a cupcake cup for a handy size and pipe it with mashed potatoes to make them look like mummies.
Marshmallow lollipops – use your imagination and colored chocolates to decorate marshmallows on lollipop sticks. Dip it on white chocolate and add sprinkles or candy eyes to make them look like monsters.
Actual Finger Foods – think "pigs in a blanket" but with wrapped hotdogs to look like warted fingers.
Candy apples – color your syrup and make the candy apples look poisoned. You can also stick some gummy worms on the apples.
Bloody Mary – find disposable syringes and fill them with bloody mary
Jell-O shots – Look for dark-colored gelatine and prepare it according to instructions. You can also add vodka or your favorite alcohol.
Cake pops – create your own set of monsters and creepy creatures using a classic cake pops recipe. Decorate them with candy eyes, corn cobs, and jellies for blood.
Eye Can See You Cookies – this delicious recipe is for a chocolate cookie with many eyes. It's a spooky edible table decoration for this time of year.
Halloween Invitation Wordings Ideas
Now that you have endless ideas or themes to consider for your next Halloween party, here are some invitation wording ideas to make it easier for you.
"Attentions boys and ghouls!

We're brewing some spooktacular party that will pump your blood.

You are invited to a night of scaringly good time"
"Get ready to boogie with your boo on a night of terror and brews!

You are invited to our annual Halloween bash___"
"Ghost and witches on the thrill of the night

Don't miss the fun or we will bite

Come, oh come and join the fun

Bad luck's waiting if you won't come"
"Eat, Scream, and Party with us on ___"
"If you're game for a Halloween scare

Join us on _________

And be ready to play"
"The wolves are howling

It's time for a feast

Get your costumes ready

Or we'll hunt you to play!"
"Leave the tricks at home

Bring your favorite snacks to share

Don't forget to mingle

Or the scary ghost will come knocking"
"Ready your broom and ride it to our

Annual Halloween Bash happening on ____"
"The witches are brewing at our house and you're invited!"
"Can you hear the wolves howling?

It's my pet calling you to join us on _____

For a fun night of scary movies and delicious snacks"
There are endless ideas that you can try at your next Halloween party! You just have to plan early so you won't rush and will have enough time to invite and inform your guests.
Giving yourself enough preparation time before your party is the key to a night of awesome games and feasting that everyone will enjoy! And don't forget to use this list of Halloween party names to boost the excitement of your guests.